About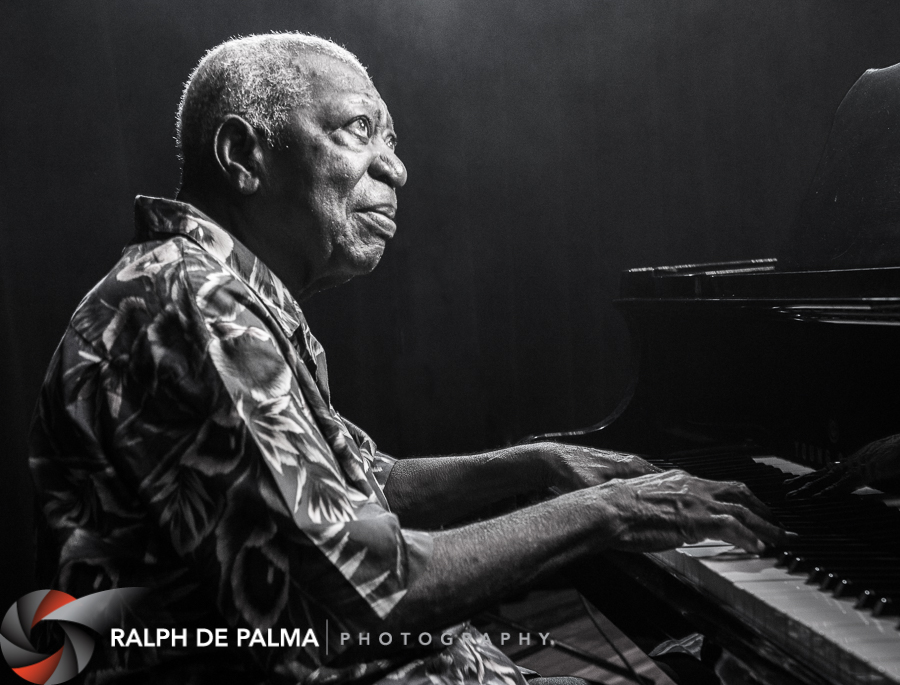 Coffee Butler       "…and I think to myself what a wonderful world."  – Louis "Satchmo" Armstrong
Lofton "Coffee" Butler was born and raised in Key West. Family and friends called him Loffy except for one friend that kept mispronouncing Loffy as "Coffee." Soon the name "Coffee" stuck. Later, when he was playing at the Hukilau, the owner's girlfriend said that story had to be embellished. She came up with the line that Coffee got his name because he was so stimulating.
Coffee's uncles, Bill and Oliver Butler, played saxophone, as did most of the Butlers. After attending Francis Xavier School, Coffee studied music at Fredrick Douglas High School and learned to play the piano. His favorite musicians were Frank Sinatra and Louis Armstrong. Torn between music and baseball in his early life, Coffee was encouraged by another Key West legend, Ellen Welters Sanchez, his high school music teacher, who saw his potential and tried to encourage him to pursue music.
Coffee was an outstanding shortstop and revered Jackie Robinson, who joined the Brooklyn Dodgers in 1947.  After graduating in 1948, he tried out with the Negro League's Kansas City Monarchs. Eventually, he played in the Florida/Cuba League for the Palm Beach Rockets, traveling between Miami, Tampa, and Cuba in 1950 and 1951.
Coffee was drafted in 1952. When he returned from the Army, Coffee met the love of his life. He married Virginia "Martha" Carpentier in 1957. Martha was a big reason for his long success and stable life, keeping him well grounded in his Key West roots. After 54 years of happiness, Martha passed away in 2011. Coffee literally cried his eyes out. He still sees a doctor in Miami about his troubled left eye.
Coffee encountered many famous folks during his performances. Tennessee Williams once came into the Bamboo Room with Tallulah Bankhead. After listening a while, Tallulah approached Coffee, sat on his piano, and struck up a conversation. Coffee told her how he loved her movies and her deep sexy voice. The flamboyant Tallulah purred, "If you made love to me, you would have been dead a long time ago."
An encounter with the Beatles also figures in Coffee's story, although he doesn't make much of it. On September 10, 1964 the Beatles were in Montreal enroute to a concert in Jacksonville, Florida. Hurricane Dora forced a detour of their flight to Key West. The Beatles stayed at the old Key Wester Hotel on South Roosevelt, now the Hyatt Windward Pointe. They were jamming all day with a number of different groups. After Coffee finished his gig at the Hukilau, Herb Rosenburg took Coffee to the Inner Room at the Key Wester and Coffee joined in and played an old Fats Domino tune, "Blueberry Hill." A large crowd was forming and the late hour caused the local police to ask that the music end. Beatles drummer Ringo Starr said, "Let the man play."
Coffee later went solo with gigs at the Casa Marina and became a fixture at Allan Merrill's Hukilau on North Roosevelt. Coffee said the owner of Howie's Lounge wanted to take him to Las Vegas and open a bigger venue. Coffee remained in Key West rather than moving to the big city to become a star because he remembered what happened to his good friend Fats Navarro and, he says, he "didn't want that to happen to me." Fats Navarro, a legendary Key West jazz bebop trumpeter, succumbed to heroin at 27. Navarro left Key West after graduating from high school and became a huge sensation in New York before his life and meteoric career were cut short.
At the Tennessee Williams Theater in 2005, Coffee, who was retiring from performing music, sang with his good friend Cliff Sawyer. Coffee, named the "Minister of Music" years before in one of the original Conch Republic celebrations, passed the title on to Cliff.
Cliff Sawyer:
Cliff Sawyer was born and raised in Key West.  He has been singing since he was 4 years old.  The first song he ever sang was "Bad Bad Whiskey" …it would make you lose your happy home.
Cliff started to sing in the Church Choir and at Douglas Elementary and later at Key West High graduating in 1966.  He played the Kettle drums in an Elementary band but has mainly been a vocalist. His friend Andy Johnson at Key West High School would play guitar and Cliff would sing.
Cliff remembers hearing street corner bands that included the great trumpeter Fats Navarro in the late 40's singing and playing outside his window.  Cliff's father played the trombone with Fats Navarro.  He met Fats Navarro when he came back to Key West in 1950 shortly before he passed away.
Cliff was drafted into the Army and sent to Vietnam at 19 and suffers today from Post Traumatic Stress Syndrome.
Cliff would sit in with Coffee Butler at the HukiLau often and usually sang an Al Green song "Lets Stay Together". Today Cliff sings Gospel music at his First Adventist Church.  His favorite music gig for over 20 years was at Little Palm Island with Coffee Butler and Phil Sampson.  He has worked with everyone in Key West. Cliff's favorite artist was Johnny Mathis and he performs several of his songs routinely.
Cliff was also a commercial fisherman since 1985.   He often visited Coffee Butler bringing him fresh fish (grunts were his favorite).
Cliff held a Concert at the Tennessee Williams Theater in 2005 with an orchestra that included many Key West musicians.  Cliff said when he walked on the stage he couldn't see anyone in the cavernous venue because of the lighting.  He had a special guest performance by retiring entertainer Coffee Butler, who was introduced with a rendition of "My Buddy".
They held an Anniversary Party for Coffee Butler and his wife Martha of 55 years at the Key West Double Tree Grand Hotel.  Cliff, Robert Albury, and several others performed for Coffee.  Some of his old Junkanoo Band members started to play their old songs and Coffee couldn't stand it any longer he got up and sang "Who Put the Pepper In the Vaseline" he was getting that old feeling again.
Cliff and his cousin Charles Hall who had a voice like Billy Eckstein, were cast as young natives in the 1963 film PT109, starring Cliff Robertson filmed near Key West on Big Munson Island (later became Little Palm Island).  Cliff remembers that during their break he and Charles would sing and the star of  PT109 Cliff Robertson told them that they needed to get to Hollywood and make it big. It was hard to get any of these Key West Conchs to leave their island.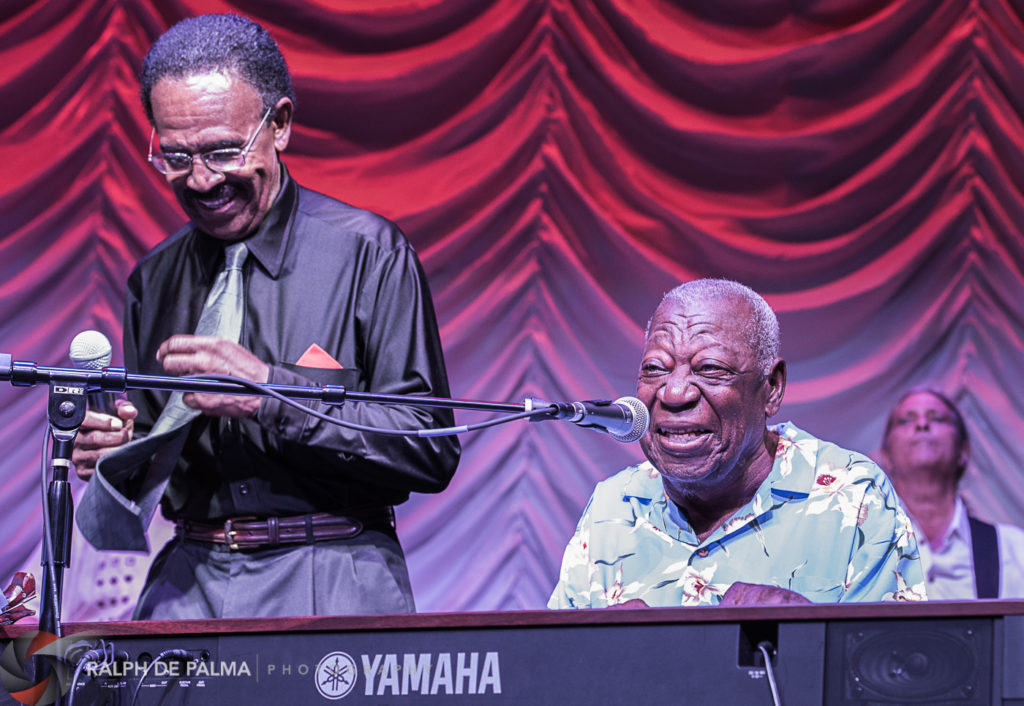 Life long friends.